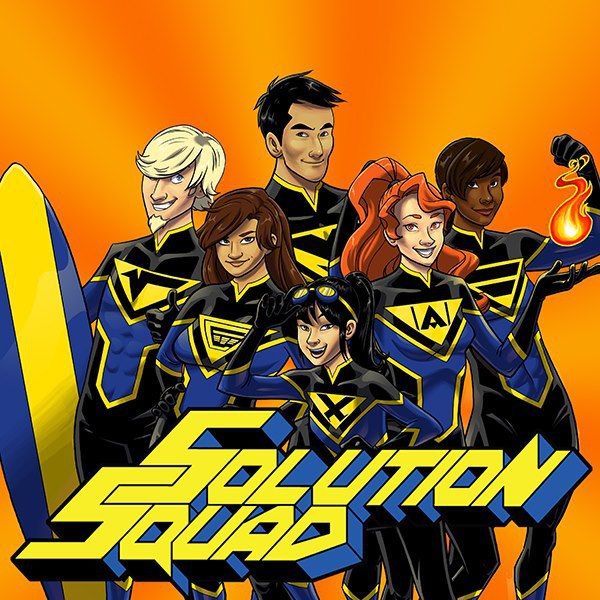 Hey guys!
If you haven't heard,
Solution Squad is now a PRINTED BOOK!
Jim (creator and writer) and I (le artiste) will be at
C2E2
next weekend with boxes full of copies, so if you want one, be sure to stop by our table in Artist Alley, numero
C16
!
We'll also have lots of super sweet
Solution Squad prints
by artists such as Ryan Ottley, Jason Howard, Jamal Igle, Carlo Barberi, and George Perez (colored by myself!), and I'll be selling some prints and commission sketches of my own as well!
If you miss us at C2E2, we'll also be tabling at a convention
nearly every weekend in May
, as well as a few later on in the year. Here's a complete list!

Chicago Comics & Entertainment Expo
, Chicago, Illinois, April 26-28, 2013.  We will both be in Artist Alley, and Jim will be participating on a panel called
Integrating Comics into the Common Core
on Friday, from 12:45-1:45 PM.

Appleseed Con
, Fort Wayne, Indiana, May 11, 2013

Motor City Comicon
, Suburban Collector Showplace, Novi, Michigan, May 17-19, 2013

Cherry Capital Con
, Grand Traverse Resort, Traverse City, Michigan, May 24-26, 2013

Kids Read Comics!
Ann Arbor District Library, Ann Arbor, Michigan, June 22-23, 2013

Kokomo-Con
, Kokomo Event and Conference Center, Kokomo, Indiana, October 19, 2013
See you there!The Official Solution Squad Blog!
Solution Squad on Facebook
Solution Squad on Twitter